With all signs in the news lately pointing to the fact that the property boom in Australia is slowing down, 2016 is the year to look at other ways to build your long-term wealth.
Reviewing your superannuation strategy—and whether or not it will give you the lifestyle in retirement you want—is a great place to start. It's never too late to make changes.
A recent survey by MLC showed that about two-thirds of Australians are short on retirement savings and feel that there are barriers to improving their situation.
MLC's quarterly Wealth Sentiment Survey showed that Australians, on average, expect to retire with about $471,000, but women believe they will have only $390,000 on average, while men project they will have $538,000.
The survey also revealed that Australian women believe that taking a career break to raise children represents a barrier to accumulating sufficient retirement funds, with around two thirds of women taking more than two years out of the workforce to have kids.
Households with children rated all barriers to retirement higher than those with no kids. Only 30 per cent of Australians with children reported feeling that they have enough funds to invest in retirement.
The survey results highlight that more needs to be done across the board to ensure a comfortable retirement, particularly for families with children. It's important for Aussies to consider not only their immediate budget but also future cash flow.
So, what can you do to start protecting and improving your retirement savings now?
Doug advises…
"There are three major points that our clients need to understand about super:
Firstly, you need to review your risk profile every two to three years, so that you are investing in a way you feel comfortable and which suits your stage of life.
Secondly, many people aren't aware of the importance of having in place, Binding Death Benefit Nominations (BDBN) for super funds, so that your money will go to whom you want when you are no longer around. These need to be regularly updated and binding, otherwise your superannuation benefits may not be distributed the way that you would have wished.
Finally, the real key to building a healthy super fund is your contribution strategy. The more you put in the more you get out! By just putting in a small amount over and above the employer contribution of 9.5% you could end up with quite a significant difference in your retirement balance when you need it. It's also tax effective; if you salary sacrifice a personal contribution it will reduce your taxable income."
Jo suggests…
"For example - If you look at a 30-year-old with a balanced portfolio of approximately $30,000 who contributes just $20 per week extra, it could add as much as $140,000 to their overall balance by the time that they are able to retire. The approximate balance at age 65 could be close to $440,000.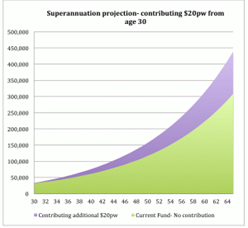 If you regularly adopt this strategy whilst working, it will add substantial value to your retirement benefit.
Have you changed your current personal or work situation or had a major life event occur?
I just had a baby boy last year, I needed to review and update my binding beneficiary forms in super, on my insurance policies and in my Will. I have reviewed the benefit amounts in my insurance policies to allow for my little man to be looked after if anything happens to me."
It is also a good time to review your risk appetite, do you still feel you want to be as risky with your superannuation after your major life event? Something to think about?
In next month's blog, we'll tell you more about Binding Death Benefit Nominations and what you need to know within a Self Managed Superannuation Fund. Soon to come, we will provide you with information around Educational Savings Bonds for your children as well.
For more information or advice call us on (02) 8268 2900 for an obligation-free chat.